Nathan Ruhl, Ph.D.
Nathan Ruhl, Ph.D.
Nathan Ruhl, Ph.D.

Senior Lecturer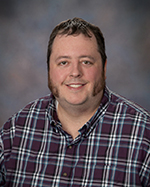 Biological & Biomedical Sciences
Contact Info
856-256-4500 ext. 52530
Science Hall 201L
Biography
Video introduction: https://youtu.be/HV5TGfy77EY
Research Profile: https://works.bepress.com/nathan-ruhl/
Courses:
Natural Resources
Introduction to Ecology
Biometry
Climate Change Biology
Environmental Science
Limnology
Special Topics
Global Bioethics
Education:
BS Environmental Science, Allegheny College
MS Biology, Saint Joseph's University
PhD Ecology and Evolution, Ohio University
Research Interests:
I am an aquatic ecologist interested in how ecological interactions change as a result of human influence.  My work blends complex statistical methods, field work, and advanced instrumentation to understand the impacts of human-driven change to the environment.  I also have a background in eco-education and the behavioral ecology of social fish. 

I lead the Ecological Diversity Group (The "EDGEe Lab") at Rowan University, a collaboration between myself and Drs. Michael Grove and Courtney Richmond.  Our lab group is currently studying zooplankton succession, zooplankton export, and cyanobacterial blooms in local reservoirs.  Our research program is 100% driven by undergraduate research assistants asking real scientific questions and working toward publication of their results.
Recent Publications (*undergraduate coauthor):
*Spicer RL, Lugo A, and 
Ruhl N
.  2020. Landform type mediates compositional change in a hurricane-damaged forest.  
Ecological Processes
, 9, 26.  
Full Text
Dafilou B, Schwester D, 
Ruhl N
, and Marques-Baptista A. 2020. It's in the bag: tidal volumes in adult and pediatric bag valves masks. 
Western Journal of Emergency Medicine
, 21:3, 722-726. 
Full 
Text
Ruhl N and *Dobson T.  2019.  Are Humans Natural? Nature relatedness and the American Dream.  Rowan Digital Works: Open Educational Resources, 15.  https://rdw.rowan.edu/oer/15
Ruhl N
, *Haban D, *Czajkowski C, Grove M, and Richmond C.  2019. Community composition of zooplankton exported from a shallow polymictic reservoir linked to wind conditions.  
PeerJ
, 7:e7611.  
Full Text
Ruhl N
 and *Sullivan N.  2017.  Disturbance-mediated cHAB formation in a small Ohio reservoir.  
Lakes and Reservoirs: Research and Management
, 22:2, 161-167.  
Publisher Website
Nunes AR, 
Ruhl N
, Winberg S, and Oliviera RF.  2017.  Social Phenotypes.  In Allan Kalueff (ed.), 
The rights and wrongs of zebrafish: Behavioral Phenotyping of Zebrafish
, pp. 95-130.  Springer International Publishing.  
Publisher Website