Learning Assistant Program
Learning Assistant Program
CS Learning Assistants Program
The Computer Science Learning Assistant (LA) Program is an innovative approach of integrating a student-centered interactive learning environment using Learning Assistants in the Rowan University Computer Science Department.  Based on the successful LA models at the University of Colorado at Boulder and the University of Maryland, exceptional undergraduate CS students are recruited to engage in CS introductory courses focusing on student-centered learning.

The goals of the CS Learning Assistant Program are:
        1)  To recruit and engage exceptional undergraduate CS students by enabling them with the knowledge and experience to strengthen their understanding while developing their leadership and interpersonal skills
        2)  To acclimate first-year CS students to collegiate academia and the rigors of the demanding CS major by promoting group collaboration, cooperation and interaction with support from an student-centered Learning Assistant
        3)  To improve and enhance student contact with additional resources provided by a peer Learning Assistant to complement the course instructor with directed focus on facilitating student learning
Responsibilities of the Learning Assistant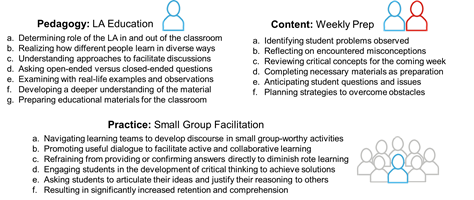 For more information on the CS Learning Assistant Program, please contact the Computer Science Department in Robinson #330.

To see the current Computer Science LA's, and Tutors, Click Here.
Faculty Testimonials
Dr. Gabriela Hristescu, Computer Science

"I had a CS Learning Assistant in my Honors Intro to Object Oriented Programming class. He has done an exceptional job helping students in the lab with his outstanding expertise. He never missed a class, has always been prepared and punctual, and when asked also provided feedback on the content of the assignments. He has proven to be an invaluable asset to the class, being instrumental in helping students better understand the material and completing the work in a timely manner. I look forward to having LAs in all my future semesters."
Professor Jack Myers, Computer Science

"I used Learning Assistants for several semesters in Object Oriented Programming and Data Abstraction. The students felt that their mastery of material was enhanced by small, practice Active Learning exercises (facilitated by the LAs). Even more value was obtained by using LAs to spend quality time with students in reviewing their lab submissions. Instead of just receiving feedback at grading time, the students were able to have their code reviewed by LAs who took the opportunity to explain issues in the code or to suggest more elegant alternatives. The students definitely benefited from such exposure."
Professor Stephen Weissman, Computer Science

"I have been teaching (mainly) OOPDA classes with assigned Learning Assistants ("LA"s) for about five years. The LA's have been a tremendous asset to me and to the students in my classes. First of all, they have been consistently excellent CS students with a sincere interest in helping their peers succeed in the coursework. In in-person classes, LA's collaborate to provide help when students are doing labs.  In Zoom and Webex online class formats, the LA's traverse breakout rooms and elicit answers to questions about the lab or assignment, and also assist students in completing labs. In my opinion, working with an LA is totally non-threatening to a student, whereas sometimes some students feel that they are revealing a lack of competency when they ask the instructor for help. Many current Tutors are also LA's, and vice versa. Tutors meet with students on a "drop-in" basis online (Webex) or in person at a designated CS tutoring location, and they provide invaluable assistance to anyone who asks. I have been impressed by the overall structure of the LA program. Students are recruited via applications and/or recommendations from faculty and the LA's get course credit through short seminar courses that introduce some fundamental principles of teaching and learning.  The dedication of the students, the staff and the Department to this program is impressive!"
Learning Assistant Testimonials
Christopher Lange, '23 BS

"I have thoroughly enjoyed my time as a Learning Assistant. I feel the program is especially valuable to all people involved because not only do I get to help my peers develop important skills in Computer Science, I am able to increase my teaching abilities and reinforce CS concepts myself. It is often said that the best test of whether you know something is how well you can teach it to others. It is extremely important to be able to explain your code and what processes you are going through in technological interviews and at other points in a CS career. Other ways the LA program has benefited me is getting to know different professors in the department, which is helpful for networking and future endeavors at the college."
Cameron Markey, '23 BS

"As a Learning Assistant, I feel that I've been fortunate enough to both enhance the learning of others as well as my own learning here at 

Rowan University. There takes a certain level of comprehension to not 

only understand important material, but also be able to teach it to others, which has kept me on my toes and made me into a better 

computer scientist. Having the chance to walk students through the 

complexities of CS problems and see students realize how to solve their own questions step by step is a process that makes being an LA so exciting. I also love that I'm able to meet others in my major and build relationships with them through the peer tutoring that the 

Learning Assistant program provides. Overall, having the opportunity 

to make a difference in the education of others while simultaneously becoming a more developed programmer, leader, and teacher are just some of the amazing benefits of being a Learning Assistant. After being part of this program, I know that the important skills I have 

developed will continue with me into the rest of college as well as my career."
Lucas Grebe, '22 BS

"I have always enjoyed helping people, and tutoring allows me to observe the moment they get it. Seeing that Aha moment gives me joy. I love when a student tells me the way I have explained it makes sense."
Brian Chesko, '21 BS

"I've been an LA almost every semester at Rowan and it's definitely been a highlight of my time here. I initially joined the program because I thought it might be rewarding to teach others, and what I found is that I was even more correct than I knew. It is true that you learn the concepts better by viewing them from an alternative perspective, but it's also incredibly satisfying in general to help someone else learn something new for the first time. You need to build an arsenal of skills to answer all types of questions successfully, such as being able to assess someone's current level of understanding as well as to frame the concepts in a way that makes sense to them. No two students are alike, so building those intrapersonal skills alongside a firm grasp on the material is essential and is one of the outcomes of moving through the LA program. I've had the opportunity to work alongside several other LAs and with hundreds of students over the past four years, so I'm very confident in my opinion when I say that being a Learning Assistant is a great experience for anyone to have. There's a reason so many of us will give the same answer -- it's the truth!"
Steven Jiang, '20 BS & '21 MS

"Being a learning assistant was truly an awesome and rewarding experience. There is nothing but positive outcomes for everyone in the classroom. The lab professors benefit from having an extra person to help with answering student questions. The students benefit from having an experienced upperclassman that they can go to and not only ask questions about the lab, but also advice to succeed in the course. And most importantly, you, as an LA, are there to become a better software engineer and programmer. You grow your interpersonal and communication skills which are incredibly valuable in the software industry. Not only that, you can brush up on concepts that you learned when first starting to code which can absolutely appear anywhere in your coding interviews or your job. I found myself explaining technical details more clearly and differently depending on the person that I am explaining to. At the end of the day, you will feel a great sense of accomplishment and growth."
Russell Binaco, '19 BS & '20 MS

"Working for the computer science department as a learning assistant and tutor has been a great experience for me. I have grown to really enjoy teaching and helping others understand programming better, and seeing my peers get more interested in the subject and grow as programmers because of me is very rewarding. Not only does teaching help me improve my mastery of the subject, it gives back to this amazing department and provides help to those who need it. Helping someone get through a difficult topic and seeing the stress disappear before my eyes can be the highlight of my day." 
Caitlin McElwee, '19 BS

"I appreciated the review of old material that serving as an LA has provided. I also enjoyed meeting all the underclassmen in the department and helping them succeed. The soft skills (communication, understanding others, quickly adjusting strategies) that I learned will also be very beneficial to me in the future."
Jamie "Tyler" Walder, '18 BS

"As an LA and tutor, I learned valuable skills that were useful throughout my college experience and early career. Among the many things, I learned how to communicate my thoughts and ideas efficiently and effectively in the classroom, to group members, and while helping others. This skill transferred well in my internship and workplace, as I found myself able to communicate on the same level as some of the more seasoned software engineers. I would recommend being an LA for the leadership skills gained and the important skill of knowing how to decipher someone else's code. These are just some of the core skills I developed from the program. Being an LA or tutor can definitely help you learn to adapt to new situations, learn problem-solving skills, and also get you out of your shell."
Jonathan D'Alonzo, '17 BS

"Being an LA-Tutor has been an amazing experience for me. I have loved sharing my passion for computer science by helping fellow students grasp this complex area of study. In turn, I have also solidified my knowledge of these certain subjects even more. Working as an LA-Tutor was a great source of networking at Rowan. It was also a great opportunity to further my interpersonal skills. I received an internship at Lockheed Martin RMS in Moorestown and plan to continue working there after graduation."