Subash Jonnalagadda, Ph.D.
Subash Jonnalagadda, Ph.D.
Subash Jonnalagadda, Ph.D.

Professor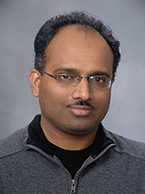 Chemistry & Biochemistry, Molecular & Cellular Biosciences, and Research
Contact Info
856-256-4500 ext. 65452
Science Hall 130C
Biography
Faculty Profile: https://works.bepress.com/subash-jonnalagadda/
Website: http://users.rowan.edu/~jonnalagadda/
Education:
BS (Chemistry), Pondicherry University, India
MS (Chemistry), University of Hyderabad, India
PhD (Organic Chemistry), Purdue University
Postdoctoral (Organic Chemistry), University of Pennsylvania
Postdoctoral (Medicinal Chemistry), University of Minnesota

Research Expertise:
Organic & Medicinal Chemistry | Organoboron Chemistry | Alternate Energy Materials

Medicinal Chemistry: We have been developing novel aza- and bora-heterocyclic compounds and betulin-based natural product derivatives as anti-cancer agents. In collaboration with Rowan School of Osteopathic Medicine, we have also identified few Withaferin-serotonin conjugates as potential therapeutic options for the treatment of Alzheimers' Disease.

Value Added Chemicals from Biomass: Recent efforts in this area have included the development of new protocols for the effective conversion of biomass derived cellulosic materials into chemicals such as hydroxymethyl furfural and furan dicarboxylic acid for applications as bio-based polymers.

Honors and Awards:
Rowan University Wall of Fame Teaching Award, 2013, 2016
Eli Lilly International Graduate Scholar, 2000-2005, Purdue University

Member of:
American Chemical Society (www.acs.org)

Recent Publications:

Fultang, N.; Illendula, A.; Chen, B.; Wu, C.; Jonnalagadda, S. C.; Baird, N.; Klase, Z.; Peethambaran, B. (2019) Strictinin, a novel ROR1-inhibitor, represses triple negative breast cancer survival and migration via modulation of PI3K/AKT/GSK3ß activity. PLOS ONE 14:e0217789.
Mereddy, G. R.; Chakradhar, A.; Rutkoski, R. M.; Jonnalagadda, S. C. (2018) Benzoboroxoles: Synthesis and applications in medicinal chemistry.  J. Organomet. Chem. 865:12-22.
Suman P, Patel A, Solano LN, Jampana G, Gardner Z, Holt CM, Jonnalagadda SC (2017) Synthesis and cytotoxicity of Baylis-Hillman template derived betulinic acid-triazole conjugates. Tetrahedron. 73:4214-4226.

Alam MA, Arora K, Gurrapu S, Jonnalagadda SK, Nelson GL, Kiprof P, Jonnalagadda SC, Mereddy VR (2016) Synthesis and evaluation of functionalized benzoboroxoles as potential anti-tuberculosis agents. Tetrahedron. 72:3795-3801.

Jain A, Jonnalagadda SC, Ramanujachary KV, Mugweru A (2015) Selective oxidation of 5-hydroxymethyl-2-furfural to furan-2,5-dicarboxylic acid over spinel mixed metal oxide catalyst, Catalysis Commun. 58:179-182.

Jain A, Shore AM, Jonnalagadda SC, Ramanujachary KV, Mugweru A (2015) Conversion of fructose, glucose and sucrose to 5-hydroxymethyl-2-furfural over mesoporous zirconium phosphate catalyst, Appl Catalysis A. 489:72-76.