MCB Home
MCB Home
Summer Undergraduate Research Program (SURP)
The Department of Molecular and Cellular Biosciences is actively recruiting Rowan undergraduate students to complete summer research internships with faculty from our department. For more information please visit https://csm.rowan.edu/research/undergraduate-research/surp.html. 
Welcome to the Department of Molecular & Cellular Biosciences
About the Department
The Department of Molecular & Cellular Biosciences at Rowan University brings together multidisciplinary faculty with the mission to provide diverse training in computational skills, life sciences, and physical sciences.  The innovative curriculum is designed to prepare students with practical knowledge and skills to tackle biomedical challenges in both the fast-growing health care workforce and in preparation for post-graduate studies. Our three major programs, Bioinformatics, Translational Biomedical Sciences, and Molecular & Cellular Biology, afford hands-on training for students to pursue careers in medical, biomedical and research-related fields.
*For all three majors, the MCB department offers a five-year, combined advanced degree program as well as an MS in Bioinformatics.
Research
Molecular & Cellular Biosciences offers a wide range of interdisciplinary research projects that are both accessible and impactful to student researchers. Students in our program receive hands-on training with skilled faculty members throughout the course of their degree program.  Examples of our innovative research program include:
Novel cancer therapeutics

Investigation of infectious diseases

Development of pharmaceuticals

Synthesis, characterization, and application of biomaterials

Investigation the 3-D structure of organic and bio-organic compounds

Characterizing the pathogenesis of neurodegenerative diseases

Molecular identification of Epigenetic mechanisms
*All programs include hands-on, faculty-mentored research projects throughout the degree timeline.
Top-Tier Facilities
MCB is located in Science Hall, along with the other biological and physical sciences. MCB also enjoys close ties with Rowan's two medical schools, CMSRU and SOM. MCB faculty share research space and instrumentation at both medical schools. These facilities provide students with practical experience using cutting-edge instruments and gaining knowledge of complex methodology. Examples of student skills training include:
Computational and statistical mining of large biological datasets

Mammalian cell culture techniques and applications

Advanced molecular imaging and quantification

Qualitative and quantitative analysis of compounds, drugs, and nanomaterials

Elucidating structure/function relationships of biomaterials

In vitro and in vivo pre-clinical studies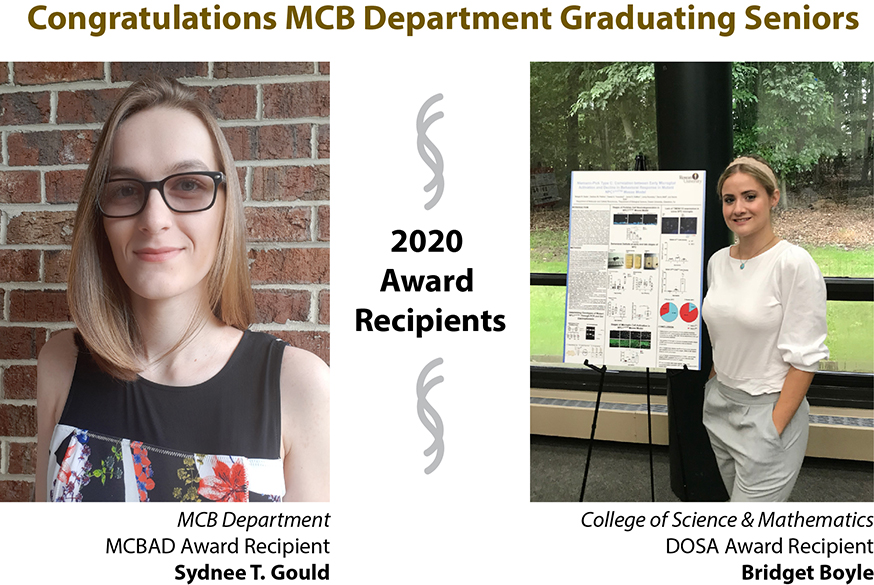 About the Recipients:
2020 MCBAD Award Recipient – Molecular & Cellular Biosciences Award of Distinction

Sydnee T. Gould is earning her B.S. in Translational and Biomedical Science. She has been an outstanding student academically and scientifically in this research-oriented program. Sydnee also obtained Certificates of Undergraduate studies in Forensics, and Global Health. In the classroom she excelled in all courses. In the research lab of Dr C. Krummenacher, she analyzed potential drugs against herpes simplex virus (HSV) infection in vitro. She perfected an Enzyme-linked Immunosorbent Assay (ELISA) to investigate the ability of small molecules to interfere with essential protein interactions involved in HSV penetration into cells. In 2019, she was awarded a highly competitive REU Fellowship in pediatrics at the University of Rochester, where she spent the summer investigating markers of the immune response to influenza virus. As a true translational scientist, she is passionate about applying her lab research skills in infectious diseases to solve medical and public health challenges. Among other occupations, she worked in a MEDlife clinic in Peru and participated in several projects at the Public Health, Environmental and Agricultural Laboratory of the NJ Department of Health. At Rowan, she also researched Title IX reporting discrepancies between colleges and communities. Sydnee is the President of the Bantivoglio Honors Student Organization and the vice-president of the Law and Justice Debate Team. After graduating from Rowan, Sydnee will pursue a career in medicine and biomedical research.

 
2020 DOSA Award Recipient – Dean's Outstanding Senior Awards

Bridget Boyle is earning her B.S. in Translational and Biomedical Science. Bridget is a smart, confident, hardworking student and Rowan field hockey team player that has accomplished much while at Rowan. Since spring 2018, she has been researching cerebellar developmental changes in a mouse model of the neurodegenerative disease Niemann-Pick Type C with Dr. Ileana Soto. Bridget has presented her findings at regional and national scientific conferences and has collaborated on projects from Dr. Keck's laboratory at Rowan University and Dr. Lepore's laboratory at Thomas Jefferson University. She is a co-author of a scientific publication from the Soto laboratory and will attend graduate school to complete a Ph.D. degree in Neuroscience the coming fall. Because of her academic success, Bridget was awarded twice the President's Scholar of Excellence for the College of Science and Mathematics at Rowan University, and the Doris V. Broome Scholarship. As a result of her excellent performance as a student and athlete, Bridget has been awarded the Academic All-American Athlete award at Rowan since 2016.