Masters in ABA
Masters in ABA
Master of Arts (MA) in Applied Behavior Analysis
The mission of the Masters in Arts program in Applied Behavior Analysis at Rowan University is to (1) provide a strong academic foundation in the science of behavior analysis, (2) develop skills necessary to consume current literature and evaluate evidence-based interventions, (3) expose students to high quality and ethical clinical training experiences in a variety of settings, and (4) foster an appreciation for behavior analysis in both traditional (e.g., home/school, autism, developmental disabilities) and non-traditional settings and populations (e.g., substance use disorders, health behavior).
The Association for Behavior Analysis International (ABAI) has verified the following courses toward the coursework requirements for eligibility to take the Board Certified Behavior Analyst® or Board Certified Assistant Behavior Analyst® examination. Applicants will need to meet additional requirements before they can be deemed eligible to take the examination.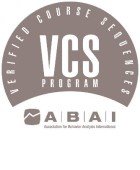 Deadline for Applications for the MA in ABA Program is February 15.
Apply here: https://apply-global.rowan.edu/apply/
Interviews will be held virtually in March 2023. Interviews are by invitation only.
Course Content Verification Form 5th edition Task List (current)
Course Content Verification Form 4th edition Task List (retired)
Coordinator of MA in ABA
Michelle Soreth, PhD, BCBA-D
soreth@rowan.edu