Gregory Capuo, Ph.D.
Gregory Capuo, Ph.D.
Gregory Caputo, Ph.D.

Professor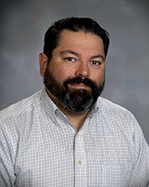 Chemistry & Biochemistry, Molecular & Cellular Biosciences, and Research
Contact Info
856-256-4500 ext. 5453
Robinson 118
Biography
Faculty Profile: https://works.bepress.com/gregory-caputo/
Website: https://users.rowan.edu/~caputo/index.html
Education:
BS (Chemical Biology), Stevens Institute of Technology
PhD (Molecular & Cell Biology), Stony Brook University
Postdoctoral (Molecular Medicine), Texas A&M Health Science Center
Postdoctoral (Biochemistry & Biophysics), University of Pennsylvania School of Medicine

Research Expertise:
Biophysical Chemistry | Antimicrobials | Peptide-lipid interactions

My research interests are in two major areas: designing/characterizing peptides with specific functions and antimicrobial surfaces.

The majority of the research focuses on the development and characterization of antimicrobial peptides. These are short, cationic sequences that are highly effective, broad spectrum antimicrobials with low toxicity profiles. I study the chemical and amino-acid composition of these peptides and the role different amino acids play in the functional properties of these peptides. My lab also has a project focused on the design of peptides to interact with optically active porphyrins toward the development of novel materials for application in photovoltaic devices.

I also am interested in antimicrobial thin film coatings. In collaboration with the Departments of Physics & Astronomy and Electrical & Computer Engineering, my team has developed a series of coatings (patent pending) with a variety of
antimicrobial and physical properties. The group focuses on the efficacy and mechanism of the antimicrobial coatings.

Honors and Awards:
2019 Fellow of the American Chemical Society
Member of:
American Chemical Society (www.acs.org)
Biophysical Society (www.biophysics.org)

Recent Publications:
Lee JY, Selfridge KM, Kohn EM, Vaden TD, Caputo GA. (2019) Effects of Ionic Liquid Alkyl Chain Length on Denaturation of Myoglobin by Anionic, Cationic, and Zwitterionic Detergents. Biomolecules. Jul 8;9(7). pii: E264. doi: 10.3390/biom9070264.
Hitchner MA, Santiago-Ortiz LE, Necelis MR, Shirley DJ, Palmer TJ, Tarnawsky KE, Vaden TD, Caputo GA. (2019) Activity and characterization of a pH-sensitive antimicrobial peptide. Biochim Biophys Acta Biomembr. May 8. pii: S0005-2736(19)30097-5. doi: 10.1016/j.bbamem.2019.05.006
Shirley DJ, Chrom CL, Richards EA, Carone BR, Caputo GA. (2018) Antimicrobial activity of a porphyrin binding peptide. Pept Sci (Hoboken). Jul;110(4). pii: e24074. doi: 10.1002/pep2.24074. Epub 2018 Aug 21.
Goderecci SS, Kaiser E, Yanakas M, Norris Z, Scaturro J, Oszust R, Medina CD, Waechter F, Heon M, Krchnavek RR, Yu L, Lofland SE, Demarest RM, Caputo GA, Hettinger JD (2017) Silver Oxide Coatings with High Silver-Ion Elution Rates and Characterization of Bactericidal Activity. Molecules. 22: pii: E1487