Gustavo Moura-Letts, Ph.D.
Gustavo Moura-Letts, Ph.D.
Gustavo Moura-Letts, Ph.D.

Professor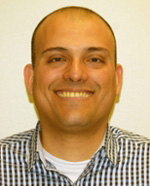 Chemistry/Biochemistry & Research
Contact Info
856-256-4500 ext. 5644
Science Hall 301F
Biography
Faculty Profile: https://works.bepress.com/gustavo-moura-letts/
Website: https://www.gmlresearchgroup.com/
Education:
BS (Chemistry), Universidad Peruana Cayetano Heredia, Peru
MS (Chemistry), University of Massachusetts
PhD (Organic Chemistry), University of Pittsburgh
Postdoctoral Fellow (Organic Chemistry), The Ohio State University
Postdoctoral Fellow (Medicinal Chemistry), Memorial Sloan-Kettering Cancer Center
Research Expertise:
Drug Discovery | Reaction Invention | Organic Synthesis

My background is in synthetic organic chemistry with an emphasis in methods development and library synthesis. My research group is focused on developing novel reactions for the synthesis of biologically relevant molecular scaffolds. Our central hypothesis is to invent organic reactions to access biologically relevant molecular targets. Thus, I have a number of projects dedicated to the synthesis of small molecule libraries with a diverse array of biological properties and to the discovery of novel reaction pathways for the synthesis of complex molecular scaffolds.

Projects:
Novel Methods for the Synthesis of Small Heterocycles, Synthesis of Pharmacologically Relevant Molecular Scaffolds, Photoredox Catalysis for New Reaction Discovery, Isolation and Characterization of Natural Products from Peruvian Medicinal Plants, Development of Novel Drugs for the Treatment of Diabetes and Cardiovascular Diseases, Novel Alkaloid-like Scaffolds as Highly Potent Analgesics Without side Effects.
Award:
2018 NSF CAREER: The Faculty Early Career Development (CAREER) Program Award
Member of:
American Chemical Society Division of Organic Chemistry (ACS)

Recent Academic Projects:
Developing workshop-like certificate program for returning veterans in chemistry instrumentation. 

Recent Publications:
Lizza JR, Moura-Letts G (2017) Solvent-Directed Epoxide-Opening with Primary Amines for the Synthesis of β-Amino Alcohols. Synthesis. 49:1231-1242.

Bakanas IJ, Moura-Letts G (2016) Synthesis of Novel Tetrasubstituted Pyrazoles from Substituted Hydrazines and β-Ketoesters. Eur J Org Chem. 32:5345-5349.

Lizza JR, Patel SV, Yang CF, Moura-Letts G (2016) Direct Synthesis of Cyanopyrrolidinyl β-Amino Alcohols for the Development of Diabetes Therapeutics. Eur J Org Chem. 30:5160-5168.

Neuhaus WC, Moura-Letts G (2016) Alumina-Promoted Synthesis of N-Aryl-1,2,4-Triazoles from Substituted Hydrazines and Imides. Tetrahedron Lett. 57:4974-4977.