Amos Mugweru, Ph.D.
Amos Mugweru, Ph.D.
Amos Mugweru, Ph.D.

Professor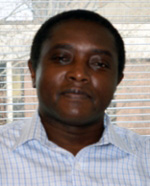 Chemistry/Biochemistry & Research
Contact Info
856-845-4500 ext. 5454
Science Hall 301C
Biography
Faculty Profile: https://works.bepress.com/amos-mugweru/
Education:
BS (Chemistry), Kenyatta University
MS (Analytical Chemistry), University of Nairobi
PhD (Analytical/Electrochemistry), University of Connecticut
Postdoctoral (Glucose sensor array), Pennsylvania State University

Research Expertise:
Analytical Chemistry | Electrochemistry | Chromatography

My research interest is in two major areas: Fabrication, modification and characterization of electrode with nanoscale materials for use in electrochemical sensors/biosensors and biomedical sensing including heavy metals and other toxins from the environment.

I also am interested in synthesis, electrochemical characterization of new materials for hydrogen generation for future hydrogen economy.

Recent Publications:
Shore A, Mazzochette Z, Mugweru A (2016) Mixed valence Mn,La,Sr-oxide based magnetic nanoparticles coated with silica nanoparticles for use in an electrochemical immunosensor for IgG. Microchim Acta. 183:475-483.

Shore A, Kahi HK, Kamau GN, Mugweru A (2016) Electrochemical and Spectroscopic Characteristics of Artemisinin Antimalaria Drug: Charge Transfer Redox Process. Int J Chem Kinet. 48:72-78.

Jain A, Ramanujachary KV, Jonnalagadda S, Mugweru A (2015) Conversion of fructose, glucose and sucrose to HMF using zirconium phosphate as catalyst. Appl Catal A. 489:72-76.

Aravind SSJ, Costa M, Pereira V, Mugweru A, Ramanujachary K, Vaden TD (2015) Evaluation of ball-milled molybdenum phosphide - graphite nanomaterials for HER catalytic activity. Appl Catal A. 490:101-107.

Jain A, Ramanujachary KV, Jonnalagadda S, Mugweru A (2015) Selective oxidation of 5-hydroxymethyl-2-furfural to furan-2,5- dicarboxylic acid over spinel mixed metal oxide catalyst. Catal Commun. 58:179-182.