Timothy Vaden, Ph.D.
Timothy Vaden, Ph.D.
Timothy Vaden, Ph.D.

Professor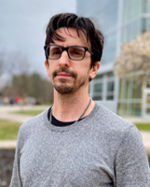 Chemistry/Biochemistry & Research
Contact Info
856-256-5457
Science Hall 301K
Biography
Profile: https://works.bepress.com/timothy-vaden/
Website:https://sites.google.com/view/vadenresearchgroup
Education:
BS (Chemistry), Midwestern State University
PhD (Chemistry), University of Illinois at Urbana-Champaign
Postdoctoral (Physical Chemistry), Oxford University
Postdoctoral (Environmental and Molecular Sciences), Pacific Northwest National Laboratory

Research Expertise:
Physical Chemistry | Biophysical Chemistry | Spectroscopy

My research utilizes tools of experimental physical chemistry to investigate metal ion-molecule interactions, characterize the proton solvation and conduction mechanisms in ionic liquid solutions, and protein stability in aqueous ionic liquids.

My lab has four main research projects underway:

Characterizing the solvation of protons in ionic liquids and the proton transportation mechanisms in acidic ionic liquid solutions.

Understanding the behavior of proteins and antibiotics in aqueous ionic liquid solutions.

Evaluating competitive metal ion chelation by small molecules in the presence of peptides.

Synthesizing and evaluating different hydrogen-generating electrocatalysts.

Member of:
American Chemical Society (www.acs.org)

Recent Academic Projects:
Investigations of TMG-biomolecule ILs for stabilizing proteins, investigations of ILs for enhancing antibiotic activities
Recent Publications:
Hanna SL, Huang JL, Swinton AJ, Caputo GA, Vaden TD (2017) Synergistic effects of polymyxin and ionic liquids on lipid vesicle membrane stability and aggregation. Biophys Chem. 227:1-7.

Borrell KL, Cancglin C, Stinger BL, DeFrates KG, Caputo GA, Wu C, Vaden TD (2017) An Experimental and Molecular Dynamics Study of Red Fluorescent Protein mCherry in Novel Aqueous Amino Acid Ionic Liquids. J Phys Chem B. 121:4823-4832.

Tran AT, Lam PT, Miller AM, Walczyk DJ, Tomlin J, Vaden TD, Yu L (2017) Proton transfer and esterification reactions in EMIMOAc-based acidic ionic liquids RSC Adv. 7:18333-18339.

Miller MC, Hanna SL, DeFrates KG, Fiebig OC, Vaden TD (2016) Kinetics and mass spectrometric measurements of myoglobin unfolding in aqueous ionic liquid solutions. Int J Biol Macromol. 85:200-207.