Data Science
Data Science
Data Science at Rowan
The Data Science program at Rowan sets students up for success in being Data Science professionals while promoting close relationships with faculty and other students.
The Best of Computer Science and Mathematics
The Rowan departments of Computer Science and Mathematics work together to build integrated Data Science programs combining the disciplines of data science, computer algorithms and data structures, and statistics. Data Science is fast growing field with growing career opportunities in multiple industries. Rowan features small class sizes where students do not have to compete for faculty attention.
Rowan offers four main Data Science programs: the Bachelor of Science in Data Science, the Master of Science in Data Science, the P.h.D. in Data Science, and the Minor in Data Science. Graduate-level programs are designed for individuals with a Bachelor's degree in a STEM-related field who are looking to expand their knowledge and opportunities in Data Science. Additionally, there are Certificates of Graduate Studies in Data Science that can be completed at Rowan. For a complete list of undergraduate and graduate programs, click here to visit our program guide.
"Coming from a mathematics only background, I knew very little about various clustering algorithms and predictive modeling. The Data mining courses at Rowan University taught me about numerous techniques and algorithms and how to apply these methods in different programming languages, vastly improving my knowledge of the topics and my coding skills!"

Emily Galvin, M.S. 2023
"Throughout my time in the MS-DS program at Rowan, I got to experience a bunch of different applications of data science, ranging from machine learning and algorithm analysis to exploratory data analysis and data visualization. The DS program here goes in-depth into both theory and application. The work I do at Cooper is similar to work I did in a class I took last semester."

Jonathan Witkowski, M.S. 2023
Cooper University Healthcare Intern
Data Science is a Growing Field
Professionals use Big Data techniques to mine public data related to health records, scientific articles, wearable sensors, clinical data, pharmaceutical data, insurance data, and more. As data growth continues, the demand for specialists is at the forefront of the job market.
Average US Salaries of Data Science Professionals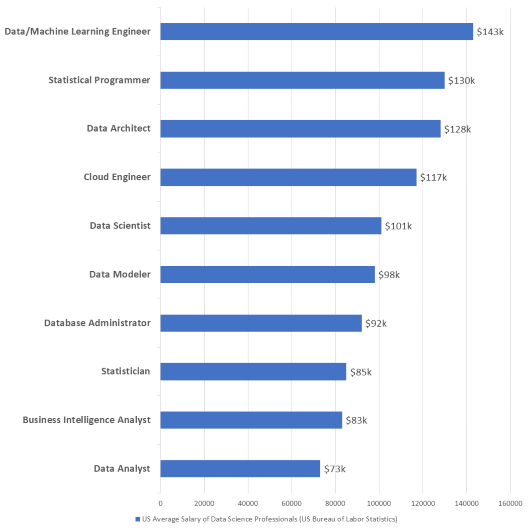 In fact, according to forbes.com, the Greater Philadelphia region ranks in the top 20 of employment markets for Big Data jobs in the United States.
Students with Data Science skills are in high demand. According to Glassdoor.com, the 3rd and 7th best jobs for 2022 are Data Scientist and Data Engineer. Rowan's Data Science program prepares students for these careers and other opportunities.