Kandalam Ramanujachary, Ph.D.
Kandalam Ramanujachary, Ph.D.
Kandalam Ramanujachary, Ph.D.

Professor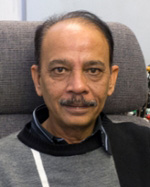 Chemistry/Biochemistry & Research
Contact Info
856-256-4500 ext. 5351
Science Hall 301J
Biography
Faculty Profile: https://works.bepress.com/kandalam-ramanujachary/
Education:
MS (Chemistry), Andhra University, India
PhD (Chemistry), Indian Institute of Technology, Madras, India
Postdoctoral (Materials Science), Rutgers University

Research Expertise:
Inorganic Chemistry | Materials Chemistry | Medicinal Chemistry

Efficient means of producing Hydrogen gas
Bio-mass conversion to value added chemicals
Design, synthesis, and development of nano-pharmaceuticals and nano-sized nutritional supplements
Development of small molecule chemotherapeutics
Synthesis, structure and electronic properties of various binary and ternary oxides, sulfides, selenides, fluorides, nitrides, phosphides featuring transition metal ions
Development of novel catalytic materials
Honors and Awards:
Rowan University Research Award 2009

Member of:
American Chemical Society
Materials Research Society of Singapore
Luminescence Society of India

Recent Publications:

Shu Z, Axe Li, Jahan K, Ramanujachary KV, Kochersberger C (2015) Metal concentrations and distribution in paint waste generated during bridge rehabilitation. Sci Total Environ. 526:262-270.

Shu Z, Axe L, Jahan K, Ramanujachary K (2015) Field methods for rapidly characterizing paint waste during bridge rehabilitation. Chemosphere. 134:598-605.

Jyothirmayee A, Ramanujachary K, Mugweru A, Vaden T (2015) Molybdenum phosphide-graphite nanomaterials for efficient electrocatalytic hydrogen production. Appl Catal A Gen. 490:101-107.