Math Team
Math Team
Math Team
"To promote math awareness and interest on Rowan's campus and to educate the importance of math. To serve as a gathering place, as well as an academic resource for all students interested in math. To participate in competitions and community service projects."
Information on all Math Team meetings will be e-mailed to all math majors. Interested math majors and others are encouraged to attend. Meetings are held in the Math Learning Center (located on the second floor of Robinson in the Math Department). (The Math Team is an SGA Club)
Math Team (Constitution)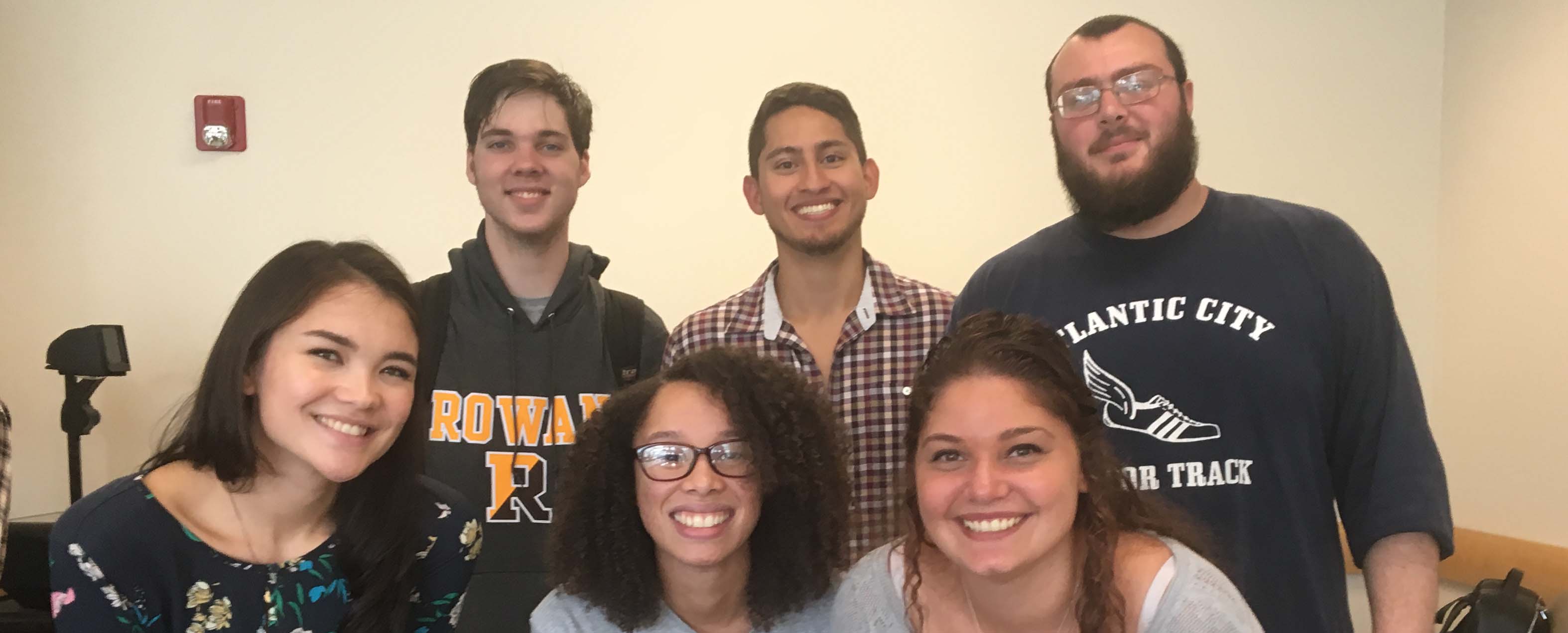 We are an organization that loves math, but also loves to have fun! All are welcome to participate in Math Team! We have many active math majors, education majors, computer science, etc., so you are not required to be a math major to join or participate. We compete in state and national mathematics competitions (not required) as well as provide free drop-in tutoring, host game nights, research events, and engage in on campus events for children who enjoy STEM! Math Team is a great way to meet new people, get involved in campus life, practice your skills, and get involved in the professional field. Come join us to see what we are all about! Please join our roster on ProfLink to receive the most recent updates using the link below. We have an interest survey available for members to ensure we are offering the correct opportunities for everyone within the math community here at Rowan. Please be sure to fill the survey out!
Fall 2020 Meetings and Events:
As of right now the remaining events we are hosting are listed below. We will update the upcoming events list with any additional events that may be added. Please join our ProfLink Roster to receive updates and reminders from us. General meetings are typically broken into two segments, first and foremost we will cover any important updates then we will run an activity specific to that meeting. All general meetings for the Fall 2020 semester will be held virtually and will offer the chance to win prizes.
Cat Sanctuary Clean-Up on Saturday, October 17th 9:00am-12:00pm 
General Meeting on Tuesday, October 27th 6:30-7:30pm 
General Meeting on Wednesday, November 18th 6:30-7:30pm
General Meeting on Tuesday, December 1st 6:30-7:30pm
Math Team Volunteer Tutoring: 
Math Team supports the Drop-In Tutoring in the MLC. All math team members are required to participate in a minimum of 10 hours of volunteer tutoring per semester. These count directly towards each member's volunteer hour requirement and are reported to SGA. To sign-up to tutor please use the link below. To check if a tutor who can help you is available please use the schedule link below. 
Tutors who have signed up for tutoring must log their hours in the shared Google Sheet. If you have signed up to tutor but do not have access to this please email our president Brooke McGinley at mcginl13@students.rowan.edu.
Math Team Monthly Challenge Problems:
Every month the Math Team will post a new challenge problem for members to put what they have learned to the test. These challenge problems will be posted on our ProfLink page under the Challenge Problems folder. These problems are a great way to also practice for the Mathematics Competitions we participate in. 
2020-2021 Math Team Officers
President: Brooke McGinley
Vice President: Logan Borys
Secretary: Jonanthan Moore
Treasurer: Ashley Sharman
SGA Senator: Quyn Ulrich
2019-2020 Math Team Officers
President: Amanda Lensen
Vice President: Liam Doherty
Treasurer: Hailey D'Elia
Secretary: Brooke McGinley
SGA Senator: Jonathan Moore/Joe Marinucci
List of previous Math Team Officers
Current Math Team Advisors
Benjamin Daniels
Norman Beil
Helga Huntley