Samuel Lofland, Ph.D.
Samuel Lofland, Ph.D.
Samuel Lofland, Ph.D.

Professor and Co-Director of AMMI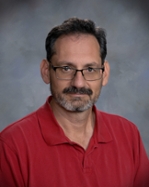 Contact Info
856-256-4382
Science Hall 101F
Biography
Website: http://users.rowan.edu/~lofland/
Digital Works: https://works.bepress.com/samuel-lofland/
Education:
BS (Physics, High Honors), University of Maryland
BS (Mathematics), University of Maryland
MS (Physics), University of Maryland
PhD (Physics), University of Maryland
Postdoctoral Fellowship (Condensed Matter Physics), University of Maryland
Research Expertise:
Magnetic Materials | Thermal Materials | Strongly Correlated Systems
My work is centered on the development and understanding of advanced materials and subsequent applications.  Much of the research is interdisciplinary by nature.
Honors and Awards:
Inaugural recipient, Rowan University Award for Excellence in Research, 2007
Society of Physics National Advisor of the Year, 2009
Member of:
American Physical Society
IEEE
Recent Publications:
Jha M, Kumar S, Garg N, Ramanujachary KV, Lofland SE, Ganguli AK (2018) Microemulsion based approach for nanospheres assembly into anisotropic nanostructures of NiMnO3 and their magnetic properties J Sol State Chem. 258:722-727.
Goderecci SS, Kaiser E, Yanakas M, Norris Z, Scaturro J, Oszust R, Medina CD, Waechter F, Heon M, Krchnavek RR, Yu L, Lofland SE, Demarest RM, Caputo GA, Hettinger JD (2017) Silver oxide coatings with high silver-ion elution rates and characterization of bactericidal activity. Molecules 22:1487.
Pavlishchuk AV, Kolotilov SV, Zeller M, Lofland SE, Thompson LK, Addison AW, Hunter AD (2017) High Nuclearity Assemblies and One-Dimensional (1D) Coordination Polymers Based on Lanthanide–Copper 15-Metallacrown-5 Complexes (LnIII= Pr, Nd, Sm, Eu). Inorg Chem. 56:13152-13165.
Mahmoudi G, Chowdhury H, Lofland SE, Ghosh BK, Kirillov AM (2017) Two manganese (II) coordination polymers driven by (iso) nicotinoyl-hydrazone blocks and pseudohalide ancillary ligands: Syntheses, structural features, and magnetic properties J Coord Chem. 70:1973-1983.
Saha S, Vaidya S, Ramanujachary KV, Lofland SE, Ganguli AK (2016) Ternary alloy nanocatalysts for hydrogen evolution reaction. Bull Mater Science 39:433-436.
Abedi M, Yeşilel OZ, Mahmoudi G, Bauzá A, Lofland SE, Yerli Y, Kaminsky W, GarczarekP, Zaręba JK, Ienco A, Frontera, Gargari MS (2016) Tetranuclear manganese(II) complexes of hydrazone and carbohydrazone ligands: Synthesis, crystal structures, magnetic properties, Hirshfeld surface analysis and DFT calculations. Inorg Chim Acta. 443:103-109.