Trevor Smith, Ph.D.
Trevor Smith, Ph.D.
Trevor Smith, Ph.D.

Associate Professor, Assessment Coordinator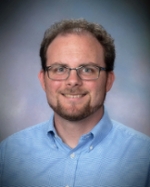 Contact Info
856-256-4848
Science Hall 101H
Biography
Website: http://users.rowan.edu/~smithtr/
Education:
BS (Physics), University of Maine
MST (Physics), University of Maine
PhD (Physics), University of Maine
Research Expertise:
Physics Education Research
I study how people think about and learn physics. My major work has focused on developing instructional strategies for advanced undergraduate thermal physics courses. My current research centers on how students use and reason about mathematics in both introductory and advanced physics courses, and the ways in which they synthesize various pieces of information to form a coherent understanding of a particular topic. I am particularly interested in using statistical analyses to measure how student understanding of a particular topic changes during a course.
Honors and Awards:
Invited Plenary Speaker at the Foundations and Frontiers of Physics Education Research Conference  2017
Physics Education Research Conference Proceedings Paper Award Finalist  2010
Member of:
American Association of Physics Teachers (www.aapt.org)
American Physical Society (www.aps.org)
Recent Academic Projects:
Measuring and representing student learning in introductory physics: A main goal of this project is to use statistical analyses to measure the relative "correctness" of various responses to common multiple-choice tests. These results may be used to show how students' understanding of physics develops during a course, even if they do not choose the correct response.
Recent Publications:
Griffin IT, Louis KJ, Moyer R, Wright NJ, Smith TI (2016) A Multi-faceted Approach to Measuring Student Understanding. In Jones D L, Ding L, Traxler A, ed. 2016 Phys Educ Res Conf.
Smith TI (2016) Representing uncertainty on model analysis plots. Phys Rev Phys Educ Res. 12:023102.
Smith TI (2015) Telling new stories by reanalyzing old data: FMCE edition. In Churukian AD, Jones D L, Ding L, ed. 2015 Phys Educ Res Conf.
Smith TI, Mountcastle DB, Thompson JR (2015) Student understanding of the Boltzmann factor. Phys Rev ST Phys Educ Res. 11:020123.