Nicholas Whiting, Ph.D.
Nicholas Whiting, Ph.D.
Nicholas Whiting, Ph.D.

Associate Professor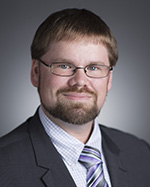 Contact Info
856-256-5436
Science Hall 101l
Biography
Digital Works: https://works.bepress.com/nicholas-whiting/
Education:
BS (Chemistry), Southern Illinois University
PhD (Physical Chemistry), Southern Illinois University
Postdoctoral (Magnetic Resonance), University of Nottingham (UK)
Postdoctoral (Cancer Systems Imaging), The University of Texas MD Anderson Cancer Center
Research Expertise:
Hyperpolarized Magnetic Resonance | Magnetic Hyperthermia | Electronic Cigarettes
My current research interests are separated into three primary fields: (1) Developing, characterizing, and applying different targeted nanomaterials for use in hyperthermic therapy of various cancer systems using a non-invasive oscillating magnetic field; (2) Improving nuclear magnetic resonance spectroscopy (NMR) and imaging (MRI) through the development of hyperpolarization methodologies, which temporarily improve NMR and MRI signals by several orders of magnitude through enhanced nuclear spin alignment; and (3) Determining the effects of electronic nicotine delivery systems through benchtop chemical analysis, in vitro cell cultures, and in vivo mouse models. These multidisciplinary projects interconnect the fields of physics, chemistry, biology, and biomedicine, and span from basic science to pre-clinical studies.
Honors and Awards:
Frances Lax Faculty Development Award
Junior Faculty Travel Fund Grant Recipient
National Cancer Institute R25T Postdoctoral Fellowship in Cancer Prevention Research
MD Anderson Cancer Center Odyssey Recruitment Postdoctoral Fellowship
Baxter Young Investigator Award
National Science Foundation International Research Postdoctoral Fellowship
Participant: 57th Meeting of Nobel Laureates and Student Researchers in Lindau, Germany
Recent Publications:
Seo, H., Choi, I., Whiting, N., Hu, J., Luu, Q., Pudakalakatti, S., McCowan, C., Kim, Y., Zacharias, N.Z., Lee, S., Bhattacharya, P., Lee, Y. (2018) Hyperpolarized Porous Silicon Nanoparticles: Potential Theragnostic Material for 29Si Magnetic Resonance Imaging. ChemPhysChem. 19:2143.

Hu, J., Whiting, N., Bhattacharya, P.K. (2018) Hyperpolarization of Silicon Nanoparticles with TEMPO Radicals. J. Phys. Chem. C. 122:10575.

Whiting, N., Hu, J., Millward, N.Z., Lokesh, G.L.R., Volk, D.E., Menter, D.G., Rupaimoole, R., Previs, R., Sood, A., Bhattacharya, P.K. (2016) Developing Hyperpolarized Silicon Particles for In Vivo MRI Targeting of Ovarian Cancer. J. Med. Imag. 3:036001.

Whiting, N., Hu, J., Shah, J., Cassidy, M.C., Cressman, E., Millward, N.Z., Menter, D.G., Marcus, C.M., Bhattacharya, P.K. (2015) Real-Time MRI-Guided Catheter Tracking Using Hyperpolarized Silicon Particles. Sci. Rep., 5:12842.