LaPorta Faculty Spotlight
LaPorta Faculty Spotlight
Faculty Spotlight: Dr. Philip R. La Porta
By: Katarina DeFelice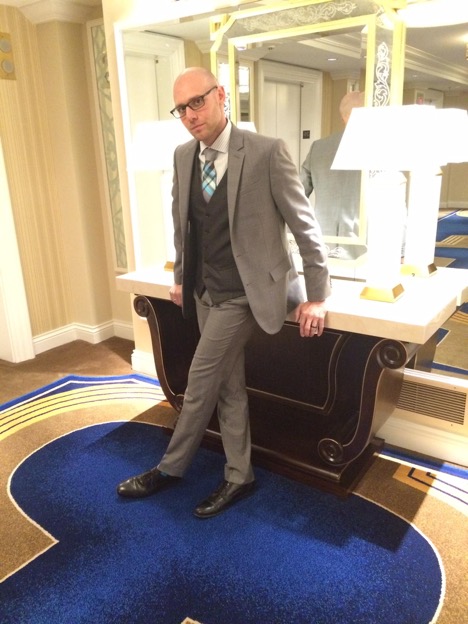 Surrounded by a Star Wars calendar, a sonic screwdriver spork, an autographed "Famous Magicians" poster and dozens of personal pictures, Dr. Philip R. La Porta casually enjoyed his breakfast while he chatted about his journey as an instructor in the College of Science & Mathematics.
The physics instructor by day and magician by night (and weekends) earned his B.S. in Physics at Muhlenberg College and furthered his education with an M.S. and Ph.D. in Physics from Lehigh University. His passion and expertise for his field is rivaled only by his passion to share it with students, something he learned by taking a multitude of education courses at Muhlenberg.
Dr. La Porta's passions in life - teaching, physics, and magic - brought him to Rowan University several years ago from a part-time position at Princeton. In his time here, he's ingrained himself in the College and made a lasting mark on students. Last semester, his students voted to have him give Rowan University's Last Lecture.
"It meant a lot to me. An arbitrary counsel of people I don't know didn't choose; the students said 'We like you,' and it felt good. As a teacher, it's nice to be recognized and appreciated for what you're doing."

In addition to the Last Lecture, Dr. La Porta champions several different organizations on campus. He serves on the University Senate, mentored a group of engineering students through the Disney Imagineering Competition (who made it to the semi-finals!) last semester, takes part in the Physics department assessment committee, and helps lead the Learning Assistance Program. It remains clear that Dr. La Porta fuses his passion for teaching with his passion for physics to shape the minds of tomorrow's researchers and educators.

When asked what he thinks he'd be doing if he was't teaching at Rowan, he stated, "I'd still instruct in some capacity. I might do magic on the side, but for me, it's all about teaching and the students."

With a line of students ready to take advantage of office hours, he parted with one last answer. "If I had to have a lame superpower… I guess I'd be 'Mediocre Man,' or maybe 'Average Dude!' I can pick skills up pretty fast, but it's a matter of time and dedication to decide if I progress in that skill set." After learning what he's already done for the College, it's clear he's anything but average.