Cara Mawson
Cara Mawson
Student Spotlight: Cara Mawson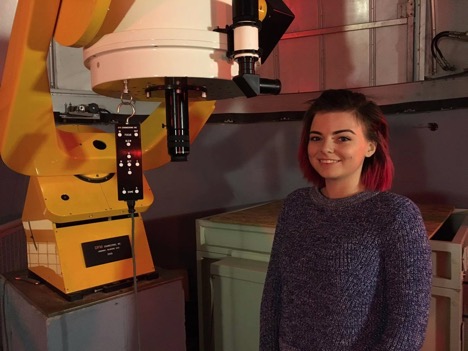 By: Katarina DeFelice
When Cara Mawson, '18 tried to decide what she wanted to be when she grew up, she looked to her role models.
"I had seen on some science show that Einstein was a game theorist, which I thought I'd love! That dream ended up dying really quickly, so I looked to others that I respected in the science community. Everyone that I looked up to was a physicist so I decided to give it a shot!"

Two years later, Mawson continues to flourish as a leader and researcher in her fields. She is working towards a degree in physics with a minor in math. She also has a concentration in astronomy & astrophysics while engaging in both biophysics and astronomy research. In addition, Mawson serves as a learning assistant at Glassboro High School.

Her biophysics research, which she's worked on with Dr. Nathaniel Nucci since her freshman year, focuses on size dependence of nanoparticles based on the proteins they encapsulate. In her astronomy research, Mawson works with two other students to separate the spectra of clouds, surface and atmosphere of Mars and come up with an algorithm that can pick apart the most prominent components of the entire spectra.

Mawson also leads two student organizations: the physics club and the astronomy club.  While her education and research prepare her for the future, these clubs continue to cultivate her leadership, organization and managing skills while providing a community to learn and grow.

"I think seeing the astronomy club grow has been the most rewarding in my time at Rowan," says Mawson. "It grew from me and two others having 15-minute meetings to a full classroom, joking and laughing for an hour and a half. It makes me so happy!"

Both clubs foster friendship within the science community at Rowan. The physics club celebrated its first "friendsgiving," complete with a turkey and loads of crockpot meals; the astronomy club is gearing up to camp in Belle Plaine State Forest to stargaze with the South Jersey Astronomy Club this summer.

If you'd like to join in on the fun, check out the Facebook pages of the physics club and the astronomy club!